VPSA Oxygen Gas Plant
The VPSA Oxygen Gas Plant is available with air fan and vacuum generator and have quick and convenient start and stop. This oxygen plant has low automation and is user friendly. The plant provides pure Oxygen by using Zeolite Molecular Sieves. Due to larger capacity, it uses Vacuum assisted regeneration. Very suitable for flow rate above 200 NM3 / hr.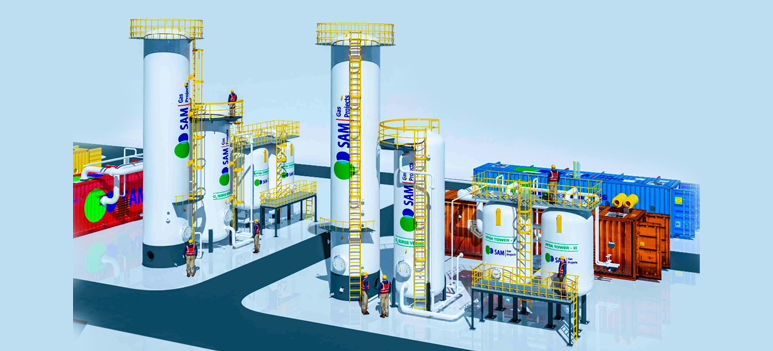 Technical Specifications
| | |
| --- | --- |
| Capacity | 200 - 500 Nm3 / hr |
| Purity | 93 ± 2% |
| Pressure | 2 - 150 Bar g |
How VPSA Principle works
This process consists of 2 beds filled with Molecular Sieves. These cycle alternately in Production and in Regeneration. Regeneration of Molecular sieves is done by assistance of a Vacuum pump. The waste gas is 85% Nitrogen and 15% Oxygen which is vented to atmosphere. Product Oxygen gas purity is 90 to 95%.


Plant Equipment
Air Fan and Vacuum Pump

Temperature Regulating System
Adsorption System
Oxygen Buffer Tank
Control System Technical Index Oxygen
Applications
Paper and Pulp industries for Oxybleaching and delignification
Glass industries for furnace enrichment
Metallurgical industries for oxygen enrichment of furnaces

Chemical industries for oxidation reactions and for incinerators
Water and Waste water treatment
Available Models
SAM GAS offers a variety of models from 200 to 5000 NM3/hr Oxygen capacity needs. 93% purity Oxygen produced has 2.5% Nitrogen and 4.5% Argon.