PSA Oxygen Gas Plant
Our Oxygen Gas Plant work with PSA (Pressure Swing Adsorption) technology and ensure continuous and uninterrupted supply with guaranteed purity. Using this technology, we produce oxygen gas plants that are highly economical and require low maintenance and produce the desired results in a hassle-free manner. These generators absorb nitrogen with the help of two absorption vessels that are filled with most efficient zeolite molecular sieves responsible for nitrogen absorption. We are the manufacturer and exporter of PSA Oxygen Gas Plants

In the Oxygen Gas Generation Process, the air is taken from an air compressor and oxygen is separated from other gases, including nitrogen with the help of zeolite molecular sieves. The process involves two towers filled with zeolite molecular sieves which adsorb nitrogen and subsequently discharge waste. The oxygen generated is 95% pure. When nitrogen saturates from one tower, this process changes over to the other tower, thus helping in the process of continuous oxygen generation.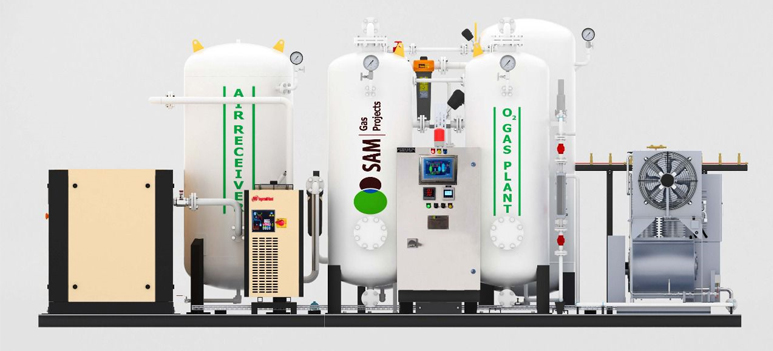 Technical Specifications
| | |
| --- | --- |
| Capacity | 1 - 200 Nm3 / hr |
| Purity | 93 ± 2% |
| Pressure | 2 - 150 Bar g |
Salient Features
Full Automation All systems are designed for un-attended operation and automatic Oxygen demand adjustment.
Lower Space Requirement The design and Instrumentation makes the plant size very compact, assembly on skids, prefabricated and supplied from factory.
Fast Start-up Start-up time is only 5 minutes to get desired Oxygen purity. So these units can be switched ON & OFF as per Oxygen demand changes.
High Reliability Very reliable for continuous and steady operation with constant Oxygen purity. Plant availability time is better than 99% always.
High Reliability Expected Molecular sieves life is around 10-years i.e. whole life time of Oxygen plant. So no replacement costs.
Applications
Paper and Pulp industries for Oxy bleaching and delignification
Glass industries for furnace enrichment
Metallurgical industries for oxygen enrichment of furnaces
Chemical industries for oxidation reactions and for incinerators
Effluent Water and Waste Water treatment
Color And B & W Picture Tube/ Glass Shell Industry
Lamp/ Compact Florescent Lamp Industry
Brazing Application
For Fish Farming
Ozone Generation
LPG Enrichment
| | | |
| --- | --- | --- |
| Model | Capacity NM3 / hr | Power Consumed KW |
| OG-1 | 1 | 1.5 |
| OG-5 | 5 | 7 |
| OG-10 | 10 | 12 |
| OG-25 | 25 | 27 |
| OG-50 | 50 | 50 |
| OG-100 | 100 | 100 |
| OG-150 | 150 | 145 |
| OG-200 | 200 | 185 |
| OG-300 | 300 | 275 |
| OG-500 | 500 | 450 |