PSA Nitrogen Gas Plants - DX Model
The DX Model is commonly used in metallurgical industries for providing oxygen free nitrogen for heat treatment furnaces. Here, the oxygen is less than 1-ppm and but hydrogen is around 0.5 to 1% which is desirable as reducing constituent in most of heat treatment applications.

The commercial nitrogen production process usually employs carbon molecular sieves as adsorbents, whereas in PSA DX Gas Generator is adsorbed to its equilibrium value much faster than nitrogen. This is possible because oxygen, which is smaller in size (kinetic diameter 3. 46 a.o) diffuses much faster in carbon molecular sieves than nitrogen (kinetic diameter 3. 64 a.o). Thus, these are used as inert gas in chemical & pharmaceutical industries.

This "MS" models can also be converted into "DX" model by adding palladium deoxo reactor and Gas Drying Unit. The "DX" model is also applicable in chemical as well electronic industries.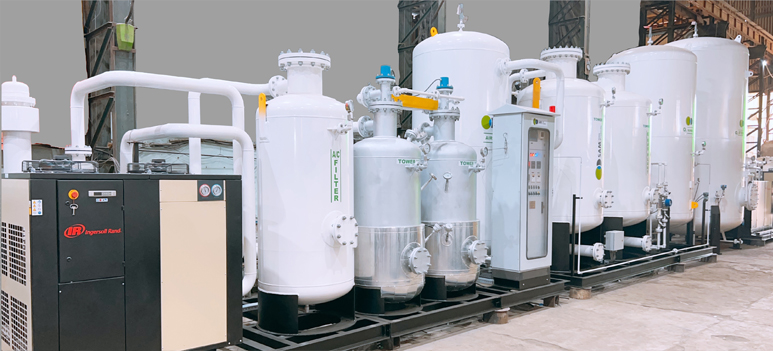 Gas Composition
| | |
| --- | --- |
| Flow Rate | 1-1000 Nm3 / hr |
| Nitrogen | 99.9999% |
| Oxygen | 1 to 3 ppm (max) |
| Hydrogen | 0.5% or more |
| Dew Point | (-) 40oC to (-) 80oC |