Quality
We ensure that quality comes prior to everything else. We employ special quality measures and checks at each stage of production. Our team of experts follow TQM (Total Quality Management ) program to achieve excellence in all processes. Implication of TQM program assures conformity with conventional international quality standards.


TUV certification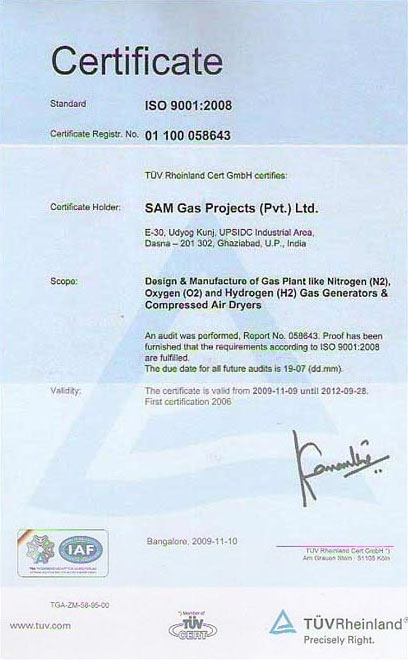 Enlarge View


Accredited with an ISO 9001:2008 certification, we are committed to provide world-class customer satisfaction through excellence in processes. We have a team of quality control officers to insure maintenance of quality, right from production to the completion of dispatch of final products. We have occupied leading position in industry by ensuring about quality maintenance and sound manufacturing facilities.

Our approach to quality is aimed at :
Improving quality of service
Increasing customer satisfaction
Improving processes
Increasing employee satisfaction
With these quality parameters, we assure our clients that our plants have high operational efficiency. Further, we offer on-site maintenance customer support to our clients.

Some achievements are :
ISO 9001 : 2008 - This standard certifies that consistent business processes are being applied throughout the company. We have state-of-the-art products, services, processes, materials and systems, and managerial as well as organizational practices. We have been successfully assessed against ISO 9001 : 2008 standards.



Mission & Values
Mission :
Our mission is to use our extensive experience to deliver tangible business results-enabling our clients in industry and government to profit from the advanced use of technology. We strive to build long-term client relationships based on mutual trust and respect.

Our Management Values

Committing to client satisfaction as our most important business objective.
Recognizing our achievements as the work of the people who comprise Sam. We encourage initiative, recognize individual contribution, treat each person with respect and fairness.
Maintaining the highest standards of professionalism and technical competence.
Maintaining the highest standards of ethics and business conduct, and operating at all times within the laws of the countries in which we do business.
Identifying and responding aggressively to new opportunities and committing to success in each undertaking.
Business Consultants