Refrigerated Type Air Dryers
We manufacture a wide range of Refrigerated Type Air Dryer The Basic principle is the removal of moisture by cooling air to certain present temperature.

The concept of efficient cooling is removal of heat only. The air first enters into the pre-cooler where the incoming hot air is being cooled by outgoing cold air so as to reduce the heat load of evaporator.The air from pre-cooler enter into the evaporator where further heat is removed by boiling refrigerant like Freon.

Now the air get condensed and this moist air is passed through a moisture separator where moisture is drained out by centrifugal action of air. The moist free air enters into pre-cooler to cool the incoming air.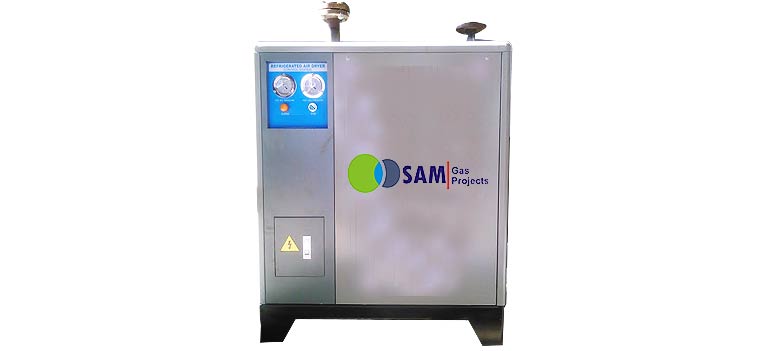 Technical Specifications
| | |
| --- | --- |
| Range | 5 to 1000 Nm3 / Hr |
| Pressure | 0.5 to 12.5 Bar g |
| Electrical Connection | 415V , 3 Phase , 50 Hz |
| Refrigerant | R22 |
| Dew Point | (-) 23oC |
Salient Features
Simple and compact design.
Automatic cleaning of condenser.
Efficient Power Saving.
Least pressure drop.
Easy maintenance.