Bio Gas Plant
The biogas is the result of the mixture of various gases that are produced due to microbial digestion of organic substances in the absence of oxygen. The resulted gas composed of 50 to 70% methane and 30 to 50% carbon dioxide. The biogas also contains trace gases like nitrogen, ammonia and hydrogen sulphide.

The CHP's or Combined heat and power plants helps in transforming biogas in to heat and electricity. The operator operating the plant helps in the production of electricity to send it to the electricity grid and also for its own use. This serves as cheap source of electrical energy and is used for heating stables, houses, industrial & trade structures and other buildings.

The substances that are suitable for the biogas plant
Renewable materials like corn and sunflowers
Solid and liquid manure

In particular, biogas offers a great deal for large dairy farms, which can easily use the readily available liquid manure to create energy. The manure can be pumped directly from its collection point into the biogas plant.

The environmentally harmful methane emissions from the manure are drastically diminished after their use in the biogas plant. Organic wastes, which have no more reuse possibilities what so ever, can be fed in. The only important thing is that the organic material does not contain, or has as little as possible, lignins (woody structured materials).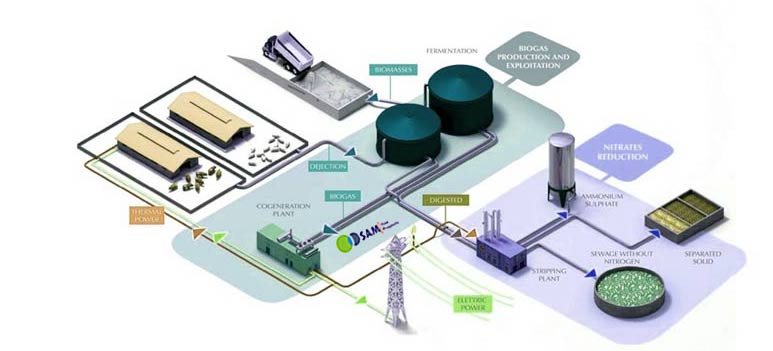 Salient Features
Compact skid mounted, modular systems for simple installation
Simple to operate and control
Heat recovery for integration with upstream processes
Capacity range from 150 to 5000 Nm3 / h
Bio methane is generated from organic materials as they decay
Sources of Bio methane
Landfills
Waste waster Treatment Systems
From animal operations where manure can be collected and the Bio methane is generated from anaerobic digesters where the manure decomposes.
Benefits
It meets the endeavors of a country in harnessing alternate renewable energy resources in the context of energy crisis and conservation

Its eco friendly

Reduces deforestation

Produces smokeless fuel

Heat treatment furnaces
Gives value added fertilizer which is organic hence cause soil nutrient ion increase productivity
Brings clean environment due to lowering of pollution of land air water based resulting in improved sanitation
Convenience and leisure to woman
Gives rural employment hence improves rural economy
Rubber & Footwear industries
Enables for carbon credit